When It's Time For Beth to Narrate Your Book
Please read this when it's time for us to get started on your audiobook!
The instructions below assume you and I will work together via ACX, a major audiobook distributor owned by Amazon/Audible. By working with them, we'll have a clear contract and an excellent way for me to share the audio files with you.
But ACX isn't the only way! If you don't have access to ACX (available to residents of the United States, United Kingdom, Canada, and Ireland) or don't plan to use it for any of your distribution, just reach out to me at carolbethanderson@gmail.com so we can make alternate arrangements.
Here are the steps you need to take if we're using ACX:
I'm assuming you've already claimed your book on ACX. If not, check out the instructions in this post.
Log in to ACX. Click next to your name where it says (#) Projects ("10 Projects" in the example below).
Make sure you're in the "Titles Not Posted" tab. Click "Edit Title Profile" next to the book I've agreed to narrate.
The next page will look like this:
ACX will pull in the book description from Amazon. Edit if you need to, but be careful not to mess up the HTML code!
List yourself in the Print Copyright Owner AND Audio Copyright Owner fields (unless someone else holds the print copyright). Please note these names will show up on Audible. If you use a pen name, and your real name is secret, make sure you have a legal way to claim your pen name or a company name as the copyright owner. I'm not a lawyer, so I can't give any advice on this!
Select Fiction or Nonfiction, and scroll down. The rest of the page looks like this:
Choose a book category in #4.
Under question #5, select, "No, I already have selected my narrator and would like to make an offer right away." You may still be required to answer some of the questions in #6, but it doesn't matter what you put there.
Skip everything else and click "Continue" at the bottom of the page.
On the next screen, click the "Start Entering Chapter Names" button.
If you've uploaded your book file to KDP already, click "Import Table of Contents from Kindle."
If it finds a table of contents, click "Import."
If it doesn't find one OR you haven't yet uploaded files to a pre-order book, you'll have to manually enter all your chapter names. In that case, be sure to enter any front matter or back matter you want me to read. See the sample table of contents below.
When it imports your Table of Contents, it imports EVERYTHING. You need to delete the ones that won\'t be part of your audiobook, such as "Title Page," "Contents," and "Copyright." It's up to YOU whether your want your Dedication, Foreword, etc in there. Most authors don't include the Acknowledgements and About the Author, but that's up to you. Please note that ACX requires me to record Opening Credits and Closing Credits. You don't need to add those to the Table of Contents.
Enter your word count (approximate is fine) and which rights you own. (If you're fully self-published, you own World rights.) Please note that they say the average narrator speaks at a rate of 9,300 words per hour, but I tend to speak a bit slower, more like 9,000 words per hour.
On the next screen, click the "Make Offer" button under "Ready to Select Your Producer?"

Your screen now looks like this:
Under "Make an Offer to," click "Or, enter the name of the Producer you'd like to work with." Type "Carol Beth Anderson" in the field that comes up. Choose my name from the dropdown.
My profile info will pop up.
Under #2, you need to decide if you want Exclusive or Non-Exclusive ACX distribution.

Exclusive means you can only distribute through ACX (who will send your book to Amazon, Audible, and Apple).
Non-Exclusive means you can distribute or sell your book anywhere else you want to.
ACX offers higher royalties to Exclusive books, and they also give you review codes to distribute for free, but only you can decide if that\'s worth the trade-off of not getting to sell your book other places. (You can be non-exclusive even if you\'re in KDP Select/KU, since that program is only for your e-book sales.)

Scroll down to this: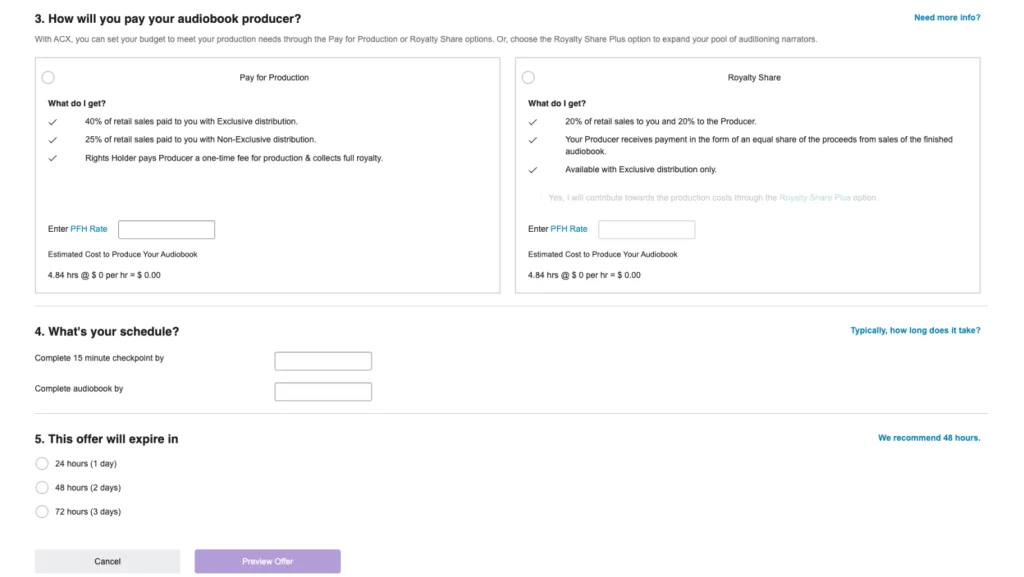 Fill in the details we've agreed on for payment.
If you and I haven't talked about deadlines (#4), please reach out to me to discuss these dates. The 15-minute checkpoint will be the first 15 minutes of your first chapter (or prologue).
Please give me three days in #5, just in case!
Click "Preview Offer." Read over all the fine print on the next page. This is our contract!
Click "Send Offer."
HOORAY! You're done. Your offer will come to my email inbox. Feel free to ping me to let me know it's on its way!
From here on out, keep an eye on your email. ACX will let you know when I've uploaded the 15-minute checkpoint (which you'll have to approve) as well as the whole book (which you'll also have to approve). I'll work with you every step of the way.
One more thing (and this a big one): You need a square image to use for your audiobook cover. If you don't have one yet, now is the time! Check out this link for ACX's requirements for audio covers.
I'm excited to work on your audiobook!
Are you getting my Audiobook Narration Newsletter yet? Sign up if you'd like to get occasional updates on my narration schedule and other details.