I'm an indie author as well as a narrator, and I love narrating books for other indies!
Check out the Q&A below. Still have questions? Email me at carolbethanderson@gmail.com.
What kinds of books will you consider narrating?
Fiction including fantasy, sci-fi, romance (including those with fully consensual steamy scenes), thrillers, mysteries, literary fiction, and more. I'll also consider various types of non-fiction. I'm open to books written for children, teens, or adults.
Most importantly, I want to connect to your book in a way that will make it enjoyable for me to narrate. If I narrate for you, I'll be spending a lot of time with your words. We'll both benefit if I'm enthusiastic! That's why I'd like to read/skim your book before I decide whether or not I'm a good fit as your narrator.
What kinds of books do you prefer not to narrate?
Horror, erotica, highly violent books (especially those including lots of detailed torture or detailed sexual abuse or child abuse), books with steamy or romantic content that's not fully consensual, and first-person narration if the main character is male. (If you have a book with both female and male first-person narration, please feel free to reach out. We can talk about dual narration, and I may even be able to bring in a male narrator to partner up on the project.)
If you're unsure whether your book is a good fit, just reach out. My email address is carolbethanderson@gmail.com.
What accent do you have?
I'm American, and I grew up in Arizona. I've lived in Texas for most of my adulthood, but I don't have any strong regional accent.
Your book may include characters with accents. As a trained actor, I've worked with various accents for both audiobook and stage productions, and I'm open to learning more. However, I don't want to do an entire book in an accent. Just dialogue, please.
Where can I listen to your narration?
I have demos on my home page. Just click here.
If you prefer, you can check out my profile on ACX.com, an audiobook production website. I have demos and a bio there.
How long will it take to narrate my book?
Generally anywhere between a few weeks and a few months, depending how long it is. However, I may already have projects in my production queue! Please feel free to reach out early (even while you're still writing a book) so we can discuss adding you to my schedule.
What if I need a rush job?
Please reach out to me if you need your book done quickly. I may be able to squeeze you in early instead of adding you to the end of the queue. If so, there will be a nonrefundable rush charge, payable in advance, in addition to my normal fee.
How much does it cost?
I charge per finished hour (PFH) of audio. Email me at carolbethanderson@gmail.com to find out my current rates. And click here if you want to read about my Pay-As-You-Go Narration plan!
Please be aware that every finished hour of audio takes several hours to produce, but you'll pay based on the length of the final audiobook.
When I start producing your book, I'll narrate a "15-minute checkpoint" file for you to review. I'll invoice you for half the estimated cost once you've approved that checkpoint file. I'll invoice you for the remainder after you approve the entire book.
My narration speed is approximately 9,000 words per hour. That means an 90,000-word book will turn into an audiobook that's approximately 10 hours long. However, my narration speed varies from one book to the next.
You may have heard of ACX Royalty Share, which allows authors to have an audiobook produced at no upfront cost. Instead, they split royalties with the narrator. Royalty Share Plus is similar, but the author pays a PFH (Per Finished Hour) rate on top of the split royalties. I'm only open to these price structures in very specific situations. (I'll need to be confident your audiobook will sell well, since my profits will be tied directly to your audio sales.) Reach out if you'd like to discuss.
When I add your book to my production queue, I'll guarantee you that the rate I quoted won't change (even if I've raised rates by the time I get to your book). However, this is only the case for one book. If we schedule future books in the series, for instance, they could end up being at a higher rate.
What do I do if I'm interested in getting my audiobook narrated by you?
Email me at carolbethanderson@gmail.com telling me about your book (word count, genre, any content issues I may find objectionable based on lists above). Please also attach an ePub, .docx or PDF of your book for my review, or, if the book is in Kindle Unlimited, let me know so I can borrow it there.
Whether or not you're interested in my narration, if you live in the United States, Canada, United Kingdom, or Ireland, please claim all your published books (including those that are on pre-order on Amazon) on ACX. This prevents unsavory folks from claiming they have the rights to produce your audiobook without your permission, and it's an important step for authors to take even if they don't want to produce audiobooks. (One exception: if a publisher or audiobook-production company is handling the production of your audiobook, ask them whether or not you should claim your book.)
Here's how you claim a book on ACX:
Go to ACX.com (or the appropriate ACX site for your country) and click "Sign Up Now." Use your Amazon account (the same one you use for KDP if you have an account there) to sign in. Sign up for a Rights Holder (author) account. Finish the account set-up process.
Click "Add Your Title" at the top right of the page. Search for your book (title plus your last name is a good start), and when you find it, click, "This is My Book". Hint: if you have trouble finding it, enter the ASIN, the number Amazon assigns to your book.
On the next screen, click "Continue" next to "I'm looking for someone to narrate and produce my audiobook" (or the other option if it applies or will someday apply).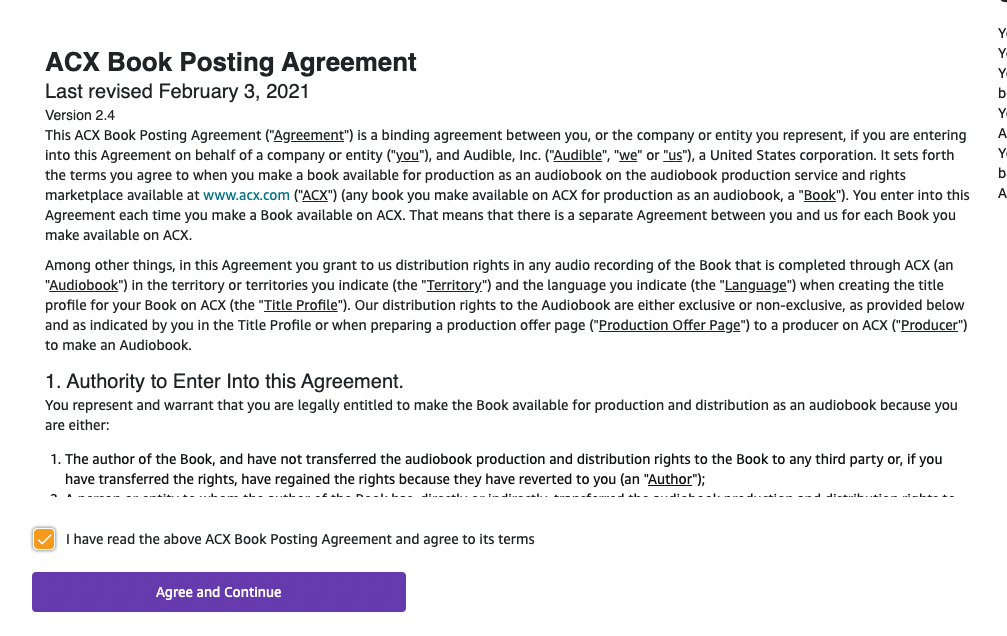 When you see this next screen, you don't need to do anything unless you're ready to start producing the book. You can close the window or go back up to "Add Your Title" (to add another book). ACX has now assigned your book to you so no one can produce it as an audiobook without your permission. (You'll find it under "Projects" next to your name at the top of the page.)
Now you've reserved your book under your name, so if and when you do decide to self-publish it as an audiobook through ACX, you'll be able to! Please note there are sometimes multiple versions of a book listed, so I suggest looking up your author name and scrolling through ALL the ones you find (or looking up every single ASIN Amazon has assigned to your books—ebooks, paperbacks, hardcovers, even series pages). Go through this process with everything you find under your name.
Let's get back to the process of working with me as your potential narrator.
After I skim through your book to determine if it's a good fit for me or not, I'll contact you. If it's a good fit, and we both agree to move forward, you'll go on my production schedule.
While you're waiting, there's one thing you can work on: you'll need a square image to use for your audiobook cover. If you don't have one yet, now is the time! Check out this link for ACX's requirements for audio covers.
Once I'm ready to start producing your book, we'll move on to the next phase. Click here to read the steps you'll need to take to hire me as your narrator.
Want occasional emails with updates on my narration schedule and other details?
Sign up for my Audiobook Narration Newsletter.